Hong Kong suspends all flights and orders people to stay clear of airport due to pro-democracy protests
Thousands of demonstrators gather at main terminal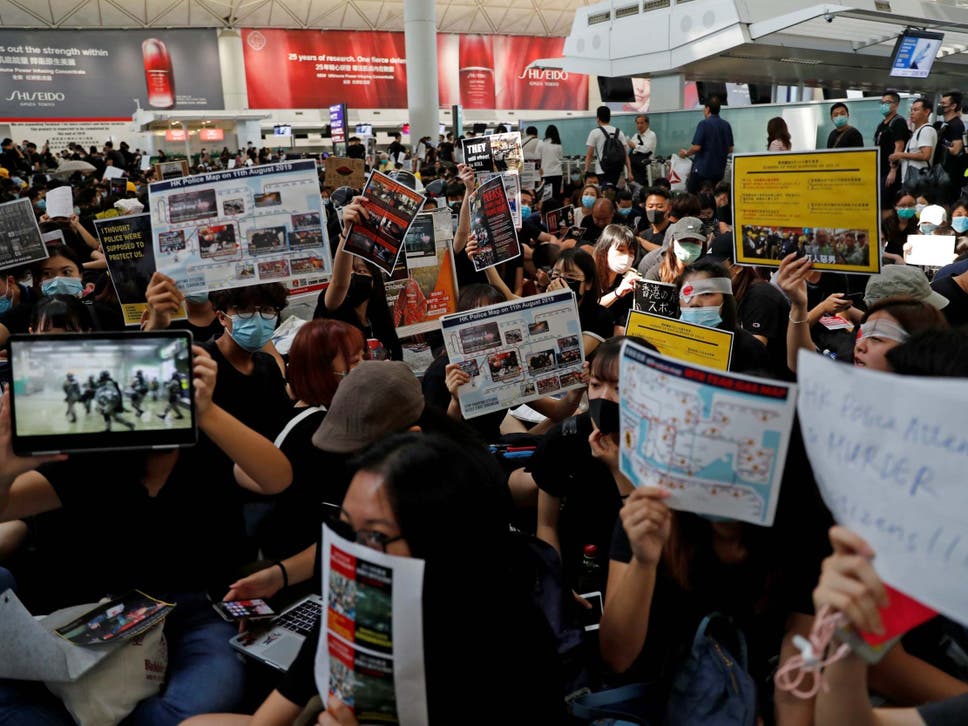 Hong Kong airport has cancelled all remaining flights after thousands of pro-democracy protesters crowded into the main terminal.
Passengers were advised not to travel to the area due to the fourth consecutive day of anti-government demonstrations at the building
The airport authority said in a statement the protests had "severely disrupted" its operations.
"Other than departure flights that have completed the check-in process and the arrival flights already heading to Hong Kong, all other flights have been cancelled for the rest of today," it added.
The airport had previously announced on its website that only those with an air ticket or boarding pass would be allowed to enter the check-in aisles, from midday on Monday "until further notice".
Cathay Pacific, the city's flagship airline, said in a statement that it had been informed that "all departing flights are cancelled today, Monday 12 August, effective immediately."
"This is as a result of the public assembly taking place at Hong Kong International Airport today," the company added.
"Customers are therefore advised to postpone non-essential travel and should not proceed to the airport."
Protesters entered the terminal on Monday carrying banners and placards calling for "freedom" and accusing the Hong Kong police of using excessive force.
It followed reports of officers using tear gas in subway stations and firing "bean-bag" bullets at demonstrators from close range. One woman suffered a ruptured eye after being hit by a projectile in the face.
At least one protester at the airport wore a bandage over her eyes as part of a symbolic protest at the incident. The bandage was stained with red and bore the message: "HK Police murders HK citizens".
Hong Kong, a former British colony, was returned to China in 1997 after the Communist Party-led government agreed that the city's democratic freedoms would remain unchanged for 50 years.
However mass protests erupted in June over an extradition bill that would have allowed Hong Kong residents to be sent to the mainland to stand trial.
The bill was later withdrawn but activists are now demanding the resignation of Hong Kong leader Carrie Lam, democratic elections for her successor, the release of those arrested in earlier protests and an investigation into police use of force.
Additional reporting by Reuters and Associated Press
(Source: TheIndependent)